New Rehabilitation Hospital Opens in Louisville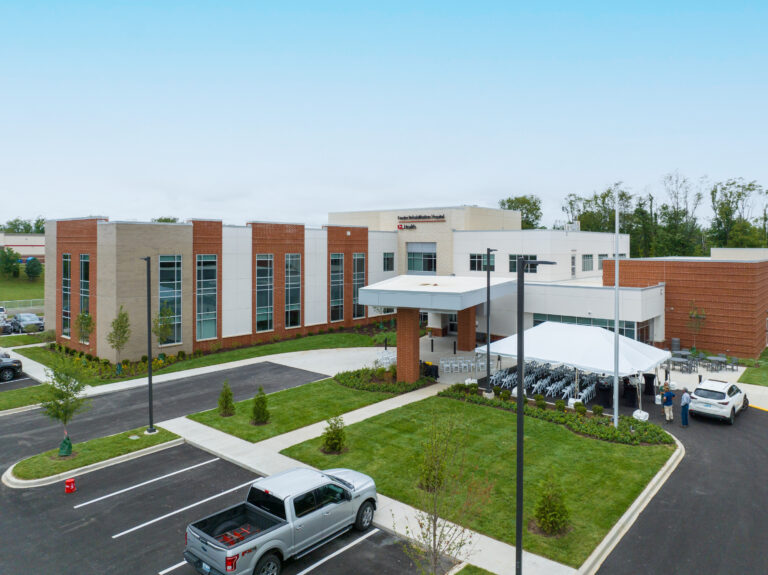 Louisville, KY
.
(08/01/2023):
Capital Growth Medvest is pleased to announce the completion of the University of Louisville (UofL) Health, Frazier Rehabilitation Hospital — Brownsboro. This project is a joint venture between UofL and Lifepoint Health, Kindred LifePoint Rehabilitation Services. 
 The new 55,000-square-foot freestanding, 40-bed inpatient rehabilitation hospital includes private rooms and focuses on acute rehabilitation for patients recovering from stroke, traumatic brain injuries, neurological disorders, orthopedic conditions and amputations. The two-story state-of-the-art features large multidisciplinary gyms outfitted with the latest therapy tech, including augmented reality balance trainers, therapy bionics and a full body exoskeleton. The facility also includes transitional living apartments, a therapeutic courtyard, as well as an acquired brain injury unit with its own private dining and therapy gym.
 In addition to providing key services for patients, the facility will serve as a teaching hospital, providing instruction opportunities for doctors, nurses and technicians.
 "This project represents the strengthening of our working relationship with the team at Lifepoint Health and an expansion of services for the Louisville area," said Joe Baugh, Managing Partner at Capital Growth Medvest. "They had a clear vision to serve the community's needs on several levels through this one effort. Rehab hospitals in this part of the state remain at capacity year round, so it will provide much-needed treatment for residents. But it also addresses the current shortage of healthcare services in a much broader way. From the outset they've been able to design the space to be a teaching hospital. Recruiting and training healthcare professionals is a global challenge right now, and building a hospital that facilitates hands-on instruction fills a critical gap."
 Frazier Rehabilitation Hospital — Brownsboro's location near the intersection of I-71 and I-265 positions it well to serve the growing East End of Jefferson County and adjacent counties. "This new inpatient rehabilitation hospital combines Kindred LifePoint's national expertise in rehab excellence with Frazier Rehab's first-in-class care and leading innovation," said Tom Miller, CEO of UofL Health. "The new hospital will increase access to our rehab services, addressing unmet needs in our growing community." Robins & Morton is the general contractor on the project and Earl Swensson Associates is the architect.
About Capital Growth Medvest
Capital Growth Medvest, based in Birmingham, Ala., helps medical facilities operate efficiently through real estate development and funding support. Its founders have completed well over $1 billion in healthcare developments and acquisitions, giving them the experience to find solutions to the most complex needs. Today, it delivers the knowledge, relationships and resources to help reach an organization's goals. Visit us at medvest.com.
Comments or Questions:
Joe Baugh: (205) 969-7140