Medvest Selected To Develop Rehab Hospital In Montana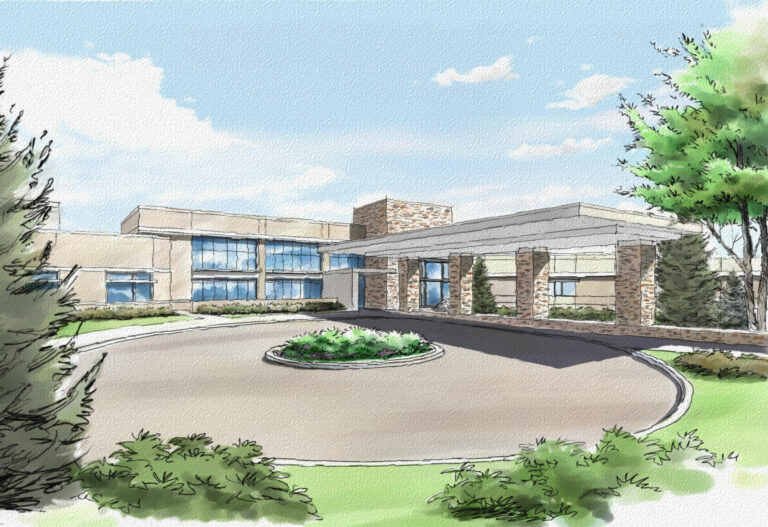 © Earl Swensson Associates, Inc
BILLINGS, MONT
.
(03/14/2018):
Capital Growth Medvest has been selected to develop a new 34-bed inpatient rehabilitation hospital in Billings, Montana. The new facility is partnership among Billings Clinic, St. Vincent Healthcare and Kindred LifePoint Healthcare, Inc. ("Kindred") (NYSE:KND).
The facility, The Rehabilitation Hospital of Montana, will serve patients who require rehabilitation following a stroke, traumatic brain injury, spinal cord injury or similar medical problems. The hospital will provide nursing care, physical therapy, occupational therapy, speech pathology, and related services to post-acute patients. The new 42,000-square-foot hospital will be the second facility Medvest has developed for Kindred, which is following an earlier rehabilitation hospital currently under construction in Tacoma, Washington.
"This collaboration will provide our community and the region greater access to new, high-quality rehabilitation services close to home," said Randall Gibb, M.D., Billings Clinic Interim Chief Executive Officer. "This will strengthen the system of providing rehabilitation services already integrated within our organizations and we know this new partnership will benefit people across the region."
The hospital is being designed by Earl Swensson Associates, Inc, which is consistently recognized as one of the top healthcare design firms by Modern Healthcare.
About Capital Growth Medvest
Capital Growth Medvest, based in Birmingham, Alabama, helps medical facilities operate efficiently through real estate development and funding support. Its founders have completed well over $1 billion in healthcare developments and acquisitions, allowing them to find solutions to even the most complex needs. Medvest delivers the knowledge, relationships and resources to help reach a facility's goals.
About Kindred LifePoint Healthcare
Kindred LifePoint Healthcare, Inc., a top-105 private employer in the United States, is a FORTUNE 500 healthcare services company based in Louisville, Kentucky. Ranked as one of Fortune Magazine's Most Admired Healthcare Companies for nine years, Kindred LifePoint's mission is to promote healing, provide hope, preserve dignity and produce value for each patient, resident, family member, customer, employee and shareholder we serve.
About Billings Clinic
Billings Clinic is Montana's largest health system serving Montana, Wyoming and the western Dakotas. Billings Clinic has more than 4,200 employees, including more than 450 physicians and advanced practitioners offering more than 50 specialties.
About St. Vincent Healthcare
St. Vincent Healthcare in Billings, Montana was founded in 1898 and is one of the largest tertiary care hospitals in Montana. With 286 licensed and 201 staffed beds, it provides inpatient, outpatient and diagnostic services to over 400,000 patients throughout eastern and south central Montana, as well as northern Wyoming.
Comments or Questions:
Joe Baugh: (205) 969-7140